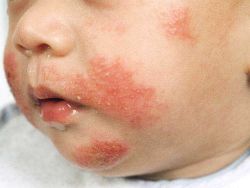 Riportiamo il caso di un bambino di 6 anni con una grave dermatite atopica e prurito refrattario. Il nuovo uso della clonidina, un agonista adrenergico, insieme con la trimeprazina, ha portato ad un miglioramento straordinario. Questo studio rappresenta la prima raccolta dati dell'effetto della clonidina nell'alleviare il prurito nella dermatite atopica.
Fonte:
Titolo: Case Report of Atopic Dermatitis with Refractory Pruritus Markedly Improved with the Novel Use of Clonidine and Trimeprazine
Rivista: Pediatric Dermatology. doi: 10.1111/j.1525-1470.2012.01756.x
Autori: Annie Genois, Margaret Haig, Anne Des Roches, Alain Sirard, Sylvie Le May R.N., Catherine C. McCuaig
Affiliazioni: Faculty of Medicine
Departments of Anesthesia
Services of Allergy and Immunology
Pediatrics
Dermatology, CHU Sainte Justine
Department of Nursing, University of Montreal, Montreal, Quebec, Canada
Abstract:
We report a 6-year-old boy with severe atopic dermatitis and refractory pruritus. The novel use of clonidine, an adrenergic agonist, along with trimeprazine, led to dramatic improvement. This represents the first case report of clonidine's effect in relieving pruritus in atopic dermatitis.