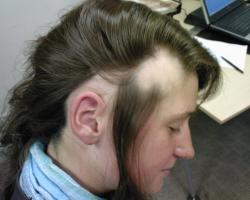 L'alopecia areata (AA) è caratterizzata da una rapida e completa perdita dei capelli in una o più aree del cuoio capelluto e lo stress sembra essere un importante fattore scatenante AA.
Obiettivo
Identificare l'effetto inibitorio della tianeptina sull'induzione del catagen nei topi C57BL/6 con lesioni simili ad AA indotta dallo stress di un'onda ultrasonica (UWS).
Metodi
I topi sono stati divisi in quattro gruppi. Il gruppo 1 ha ricevuto la tianeptina orale prima e dopo UWS; il gruppo 2 ha ricevuto la tianeptina orale solo dopo UWS; al gruppo 3 è stato dato solo il trattamento UWS, e al gruppo 4 (gruppo di controllo negativo) non è stato dato alcun trattamento. Per la valutazione, sono state utilizzate la fototrichigrafia e la dermatoscopia. L'analisi istologica è stata effettuata utilizzando ematossilina ed eosina, blu di toluidina, la colorazione tricromica di Masson e quella di Verhoeff-van Gieson; è stata effettuata anche l'analisi immunoistochimica. Attraverso i saggi di immunofluorescenza e deossinucleotidil transferasi terminale-mediated dUTP nick-end labelling, è stato valutato il livello di apoptosi e l'espressione dei neuropeptidi nella pelle.
Risultati
Il topi del gruppo 1 hanno avuto un aumento del tasso di crescita dei peli e un maggiore spessore dell'asse dei peli rispetto ai topi del gruppo 2 e 3. Inoltre, i topi del gruppo 1 hanno avuto un numero maggiore di follicoli piliferi in anagen, un aumento della sintesi di collagene e di fibre elastiche, una diminuzione della degranulazione dei mastociti, una riduzione dell'apoptosi nei follicoli piliferi, e un recupero dell'espressione dei recettori della vitamina D; ad ogni modo, non è risultata alterata l'espressione dei neuropeptidi (sostanza P, peptide correlato al gene della calcitonina).
Conclusioni
La tianeptina potrebbe sopprimere l'induzione del catagen in un modello murino di AA indotta dallo stress.
Storia della pubblicazione:
Titolo: Inhibitory effect of tianeptine on catagen induction in alopecia areata-like lesions induced by ultrasonic wave stress in mice
Rivista: Clinical and Experimental Dermatology. doi: 10.1111/ced.12047
Autori: H. M. Kim, Y. Y. Lim, M. Y. Kim, I. P. Son, D. H. Kim, S. R. Park, S. K. Seo, M. S. Lee, S.-K. Mun, C. W. Kim, B. J. Kim
Affiliazioni:Department of Dermatology, Chung-Ang University College of Medicine, Seoul, Korea Kuhnil Pharmaceutical Co. Ltd, Seoul, Korea Department of Otorhinolaryngology, Chung-Ang University Hospital, Seoul, Korea Department of Emergency Medicine, Chung-Ang University Hospital, Seoul, Korea
Abstract:
Background Alopecia areata (AA) is characterized by rapid and complete hair loss in one or multiple areas of the scalp. Stress is an important triggering factor in AA. Aim To identify the inhibitory effect of tianeptine on catagen induction in C57BL/6 mice with AA-like lesions induced by ultrasonic wave stress (UWS). Methods The mice were divided into four groups. Group 1 received oral tianeptine before and after UWS; group 2 received oral tianeptine only after UWS; group 3 was given UWS treatment only; and group 4 (negative control group) was not given any treatment. Phototrichigraphy and dermatoscopy were used for assessment. Histological analysis was performed using haematoxylin and eosin, toluidine blue, Masson trichrome and Verhoeff–van Gieson stains. Immunohistochemical analysis was also performed. The level of apoptosis and expression of neuropeptides in the skin were assessed by terminal deoxynucleotidyl transferase dUTP nick end labelling and immunofluorescence assays. Results Mice in group 1 had an increased rate of hair growth and greater hair-shaft thickness compared with mice in groups 2 and 3. In addition, mice in group 1 had a higher number of anagen hair follicles, increased synthesis of collagen and elastic fibres, decreased mast-cell degranulation, reduction in cell apoptosis in hair follicles, and recovery of vitamin D receptor expression. Expression of neuropeptides (substance P, calcitonin gene-related peptide) was not altered. Conclusions Tianeptine might play a role in suppressing catagen induction in a stress-induced AA mouse model.