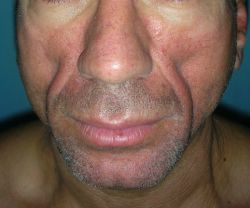 Studi di acido poli-L-lattico (PLLA) iniettabile nella lipoatrofia facciale associata al Virus dell'Immunodeficienza Umana (HIV) hanno coinvolto prevalentemente maschi caucasici.
Obiettivo
Riportare i risultati dello studio ad interim cumulativo di 2 anni, che esaminano la sicurezza e l'efficacia di PLLA iniettabile in soggetti con HIV classificata in base alla suddivisione di Fitzpatrick sui tipi di pelle e sul sesso.
Materiali e Metodi
Questo è uno studio di 5 anni, in aperto in corso e multicentrico, di 290 soggetti trattati. Dopo la correzione con il PLLA iniettabile, i soggetti sono stati seguiti con cadenza annuale. I punti finali principali includono l'incidenza e la gravità degli eventi avversi emersi durante il trattamento (TEAEs). I punti finali secondari includono il cambiamento medio dal livello basale del grado di severità nella scala di James e la soddisfazione del trattamento.
Risultati
A 2 anni, l'incidenza TEAE è stata: potenzialmente correlati allo studio del prodotto (n = 53,18.3%) o alla procedura di iniezione (n = 71, 24.5%), ai noduli nel sito di iniezione (n = 24, 8.3%) e alle papule (n = 25, 8.6%). Non sono stati riportati casi di cicatrici ipertrofiche, cheloidi o TEAEs gravi relative ai prodotti. Il miglioramento medio nel grado della scala di James per tutti i gruppi è stato di 1.4 (p < .001), e l'89.4% dei soggetti e il 95.5% dei medici ha valutato la soddisfazione per il trattamento come molto buona o eccellente.
Conclusione
A 2 anni, il PLLA iniettabile è un trattamento a lungo termine sicuro ed efficace per la lipoatrofia facciale associata all'HIV a prescindere dal tipo di pelle Fitzpatrick; la conferma dei risultati sarà necessaria al completamento di questo studio di 5 anni.
Fonte:
Titolo: Injectable Poly-l-Lactic Acid for Human Immunodeficiency Virus–Associated Facial Lipoatrophy: Cumulative Year 2 Interim Analysis of an Open-Label Study (FACES)
Rivista: Dermatologic Surgery. doi: 10.1111/j.1524-4725.2012.02474.x
Autori: Benjamin Bassichis, Gary Blick, Marcus Conant, David Condoluci, Michael Echavez, Joseph Eviatar, Michael H. Gold, Tiffani Hamilton, C. William Hanke, Gail Humble, Anthony LaMarca, Elizabeth Daro-Kaftan, Douglas Mest, Gerald Pierone
Affiliazioni: Advanced Facial Plastic Surgery Center, Dallas, Texas
Circle Medical, Norwalk, Connecticut
Conant Medical Group, San Francisco, California
Garden State Infectious Diseases Associates, Voorhees, New Jersey
University of California, San Francisco, San Francisco, California
Facial Plastic Surgery, San Francisco, California
New York Medical College, New York, New York
Gold Skin Care Center, Nashville, Tennessee
Atlanta Dermatology, Vein and Research Center, Alpharetta, Georgia
Laser and Skin Surgery Center of Indiana, Carmel, Indiana
Blue Pacific Aesthetic Medical Group, Hermosa Beach, California
Therafirst Medical Centers, Fort Lauderdale, Florida
Facial Rejuvenation, Vero Beach, Florida
Abstract:
Background
Studies of injectable poly-l-lactic acid (PLLA) in human immunodeficiency virus (HIV)-associated facial lipoatrophy have predominantly included male Caucasians.
Objective
To report cumulative year 2 interim study results examining the safety and efficacy of injectable PLLA in subjects with HIV categorized according to Fitzpatrick skin type and sex.
Materials and Methods
This is an ongoing open-label, multicenter, 5-year study of 290 treated subjects. After correction with injectable PLLA, subjects are being followed annually. Primary end points include incidence and severity of treatment-emergent adverse events (TEAEs). Secondary end points include mean change from baseline of James scale severity grade and treatment satisfaction.
Results
At 2 years, TEAE incidences were: potentially related to study product (n = 53,18.3%) or injection procedure (n = 71, 24.5%), injection-site nodules (n = 24, 8.3%) and papules (n = 25, 8.6%). No hypertrophic scars, keloids, or product-related serious TEAEs were reported. Mean improvement in James scale grade for all groups was 1.4 (p < .001), and 89.4% of subjects and 95.5% of physicians rated treatment satisfaction as very good or excellent.
Conclusion
At 2 years, injectable PLLA is a safe and effective long-term treatment for HIV-associated facial lipoatrophy regardless of Fitzpatrick skin type; confirmation of these results will be needed at the completion of this 5-year study.
Unforgivable time with our call girls. Best Rates! Best service!. Sexy Phuket escorts and amazing ladyboys on topphuketescorts.com are waiting for you!