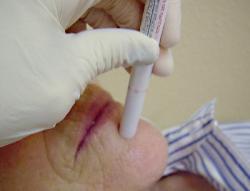 Uno studio controllato, randomizzato e con follow-up di sei mesi.
La terapia fotodinamica (PDT) con acido 5-aminolevulinico (ALA) topico rappresenta un trattamento efficace per la cheratosi attinica (AK) ed è caratterizzata solo da alcuni eventi avversi transitori.


Obiettivo:
Lo scopo di questo studio è stato quello di valutare l'efficacia e gli effetti collaterali di due diverse dosi di luci durante il trattamento dell'AK con ALA-PDT sul viso/cuoio capelluto.

Metodi:
In questo studio di confronto tra i pazienti, sono stati inclusi trentotto soggetti con due AKs confermate istologicamente. Per ciascuna AK è stata eseguita due volte l'ALA-PDT ad un intervallo di due settimane. In modo casuale, i pazienti hanno ricevuto una dose di luce di 70 o di 100 J/cm2 come primo trattamento ad una metà del viso/scalpo. Inoltre, sono stati eseguiti gli esami di follow-up dopo 3 e 6 mesi; l'end point di efficacia è stato il tasso di guarigione clinica e istologica di AK.

Risultati:
Ad entrambe le visite di follow-up, non è stata trovata alcuna differenza significativa in termini di efficacia terapeutica e di eventi avversi tra le due dosi di luce. Dopo 3 e 6 mesi dalla PDT, il tasso di remissione completa è stato rispettivamente del 100% e del 92.1% per la dose da 70 J/cm2 e del 92.1% e 84.2% per la dose da 100 J/cm2. Gli eventi avversi del trattamento sono stati la rosacea 5/76 (6.58%), l'iperpigmentazione 4/76 (5.26%), l'ipopigmentazione 4/76 (5.26%) e i milia transienti 3/76 (3.95%). Conclusioni: La PDT con ALA topico e luce rossa alla dose di 70 J/cm2 rappresenta un trattamento efficace per l'AK da lieve a moderata sul viso/scalpo, in cui gli eventi avversi sono stati le alterazioni della pigmentazione, la rosacea e i milia transienti.
Storia della pubblicazione:
Titolo: Topical photodynamic therapy of actinic keratoses with 5-aminolevulinic acid: Randomized controlled trial with six months follow-up
Rivista: Journal of Dermatological Treatment. doi:10.3109/09546634.2013.848257
Autori: E. Buinauskaite, R. Maciulaitis, J. Buinauskiene, S. Valiukeviciene
Affiliazioni:Department of Skin and Venereal Diseases, Department of Clinical Pharmacology, Medical Academy, Lithuanian University of Health Sciences, Kaunas, Lithuania
Abstract:
Background: Topical 5-aminolevulinic acid (ALA) photodynamic therapy (PDT) is an effective treatment for actinic keratosis (AK) with some transient adverse events. Objective: The purpose of the study was to evaluate the efficacy and side effects of two different light doses when treating AKs with ALA-PDT on the face/scalp. Methods: Thirty-eight patients with two histologically confirmed AKs were enrolled in the within-patient comparison study. ALA-PDT was performed twice with two weeks interval for each AK. Patients were randomized to receive a light dose of 70 or 100 J/cm2 as their first split face/scalp treatment. Follow-up examinations were carried out at months 3 and 6. Efficacy end point included clinical/histological AK clearance rate. Results: No significant difference in therapeutic efficacy and adverse events of ALA-PDT was found between the two light doses at both follow-up visits. At months 3 and 6 after PDT the rate of complete remission were respectively 100% and 92.1% for 70 J/cm2, 92.1% and 84.2% for 100 J/cm2. The adverse events of the treatment were rosacea 5/76 (6.58%), hyperpigmentation 4/76 (5.26%), hypopigmentation 4/76 (5.26%), transient milia 3/76 (3.95%). Conclusions: The topical ALA-PDT with the red light dose of 70 J/cm2 is an effective treatment for mild and moderate AKs on the face/scalp with expected adverse events of pigmentation changes, rosacea and transient milia.