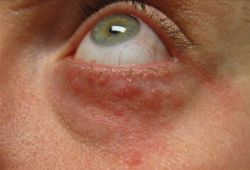 La migrazione del filler dermico è una rara complicanza nella zona perioculare. Descriviamo un caso che mette in evidenza i dilemmi diagnostici e terapeutici posti.
Un paziente presentava un gonfiore bluastro che coinvolgeva il sopracciglio sinistro, la tempia, e la glabella.
È stato mal definito, mobile e non dolente. Una MRI ha suggerito una malformazione vascolare, mentre una ecografia ha suggerito un dermoide. Su ulteriore interrogazione, il paziente ha rivelato aver avuto un filler permanente di polialchilimmide iniettato nella glabella 10 anni fa.
Questo ha sollevato la possibilità di migrazione ritardata. Il sopracciglio, la tempia e la glabella sono stati esplorati attraverso un'incisione skin-crease. Il gel trasparente è stato inserito e i granulomi cicatrizzati sono stati asportati.
Il paziente ha fatto un ottimo recupero attraverso un'incisione poco appariscente. Questo caso enfatizza l'importanza di raccogliere una storia dettagliata e di rivisitare la diagnosi, se necessario. Descriviamo un approccio relativamente senza cicatrice per rimuovere fillers migrati ampiamente distribuiti.
Le caratteristiche cliniche e radiologiche del filler migrato possono simulare un tumore.
Storia della pubblicazione:
Titolo: Migrated Periocular Filler Masquerading as Arteriovenous Malformation: A Diagnostic and Therapeutic Dilemma.
Rivista: Ophthal Plast Reconstr Surg. 2012 Jun 27
Autori: Malik S, Mehta P, Adesanya O, Ahluwalia HS.
Affiliazioni: University Hospital Coventry and Warwickshire NHS Trust, United Kingdom.
Abstract:
Migration of dermal filler is a rare complication in the periocular area. We describe a case that highlights the diagnostic and therapeutic dilemmas posed. A patient presented with a bluish swelling involving the left brow, temple, and glabella. It was ill-defined, mobile, and nontender. An MRI suggested a vascular malformation, while an ultrasound suggested a dermoid. On further questioning, the patient revealed having a permanent polyalkylimide filler injected to the glabella 10 years ago. This raised the possibility of delayed migration. The eyebrow, temple, and glabella were explored through a skin-crease incision. Transparent gel was expressed and cicatrized granulomas were excised. The patient made an excellent recovery through an inconspicuous incision. This case emphasizes the importance of taking a detailed history and revisiting the diagnosis, if necessary. We describe a relatively scar-free approach to remove widely distributed migrated fillers. Clinical and radiologic features of migrated filler can mimic tumor.