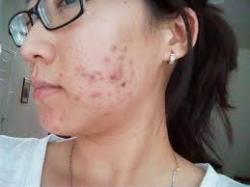 Il bevacizumab è un anticorpo monoclonale umanizzato e ricombinante contro il fattore di crescita dell'endotelio vascolare (VEGF), che inibisce l'angiogenesi.
Bevacizumab è in genere ben tollerato; i suoi effetti collaterali più importanti includono l'ipertensione, la proteinuria, l'emorragia, la perforazione gastrointestinale, e tra gli altri anche gli eventi trombotici arteriosi. Gli effetti collaterali cutanei associati all'uso di bevacizumab sono rari e rappresentati principalmente da prurito e dermatite esfoliativa. Il rash cutaneo aspecifico e le eruzioni acneiformi sono state descritte recentemente tra pazienti sottoposti a infusione di bevacizumab.
Metodi:
Sono stati esaminati i risultati in una paziente di 52 anni con cancro del polmone allo stadio IV e metastasi al cervello, la quale ha sviluppato acne grave, acuta e persistente dopo infusione endovenosa (EV) di bevacizumab.
Risultati:
L'eruzione cutanea è stata classificata come acne vera piuttosto che come eruzione acneiforme perché erano presenti tutte le lesioni cutanee dell'acne, tra cui i comedoni, le papule infiammatorie e le pustole.
Conclusioni:
A conoscenza degli autori, questo è stato il primo rapporto di associazione tra acne e somministrazione EV di bevacizumab.
Storia della pubblicazione:
Titolo: Acute and severe acne in a patient treated with bevacizumab
Rivista: International Journal of Dermatology. doi: 10.1111/j.1365-4632.2012.5658.x
Autori: Ana María Molina-Ruiz, Manuel Domine, Luis Requena
Affiliazioni:Departments of Dermatology Oncology, Fundación Jiménez Díaz, Universidad Autónoma Madrid (Jiménez Díaz Foundation, Autonomous University of Madrid), Madrid, Spain
Abstract:
Background Bevacizumab is a recombinant, humanized monoclonal antibody against vascular endothelial growth factor (VEGF) that inhibits angiogenesis. Bevacizumab is typically well tolerated; its major side effects include hypertension, proteinuria, bleeding, gastrointestinal perforation, and arterial thrombotic events, among others. Cutaneous side effects associated with the use of bevacizumab are rare and involve mainly itching and exfoliative dermatitis. Nonspecific skin rash and acneiform eruptions have recently been described in patients following infusion of bevacizumab. Methods Findings in a 52-year-old patient with stage IV lung cancer with brain metastasis, who developed severe, acute, and persistent acne after intravenous (IV) infusion of bevacizumab, are examined. Results The cutaneous eruption was classified as true acne rather than as an acneiform eruption because all cutaneous lesions of acne, namely comedones, inflammatory papules, and pustules, were present. Conclusions To the authors' knowledge, this is the first report of an association between acne and IV administration of bevacizumab.