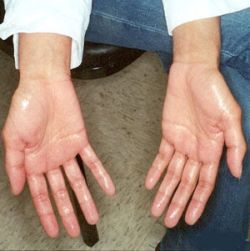 L'iperidrosi palmare, da moderata a grave, può disturbare il lavoro e la vita sociale ed emotiva delle persone. La tossina botulinica e la simpatectomia sono attualmente considerate le opzioni di trattamento più efficaci, ma pochi studi hanno analizzato la concordanza tra efficacia e soddisfazione del paziente nel confronto di questi due tipi di trattamento.
Obiettivo: Valutare la relazione tra efficacia e soddisfazione dei pazienti con iperidrosi palmare trattati con tossina botulinica o simpatectomia endoscopica toracica.
Materiali e metodi: Questa studio retrospettivo, osservazionale ha incluso tutti i pazienti trattati con tossina botulinica o simpaticectomia endoscopica toracica in un unico ospedale di riferimento tra il 2005 e il 2010. Le informazioni sono state ottenute dalle cartelle cliniche computerizzate e da un sondaggio telefonico circa il livello educativo e socio-economico dei pazienti, la consapevolezza delle opzioni di trattamento, la gravità pre- e post-trattamento dell'iperidrosi palmare, la soddisfazione e gli effetti collaterali associati. I predittori di efficacia e soddisfazione del paziente con ciascun trattamento sono stati analizzati con modelli di regressione logistica ordinale e multinomiale.
Risultati: I pazienti sottoposti a simpatectomia hanno avuto un'iperidrosi palmare più grave, ma l'efficacia e la soddisfazione dei pazienti sono stati migliori rispetto ai pazienti trattati con tossina botulinica. La gravità dell'iperidrosi palmare compensativa è stata predittiva di una minore soddisfazione dopo la simpaticectomia. Nel gruppo trattato con la tossina botulinica, il basso status socio-economico, la mancanza di informazioni sulle opzioni di trattamento, il minor numero di sessioni e un effetto anidronico più breve sono stati associati con una minore soddisfazione.
Conclusione: Negli studi delle aspettative per quanto riguarda l'esito del trattamento per iperidrosi palmare, i medici dovrebbero considerare i fattori che determinano la soddisfazione del paziente in relazione alle opzioni di trattamento.
Storia della pubblicazione:
Titolo: Differences between objective efficacy and perceived efficacy in patients with palmar hyperhidrosis treated with either botulinum toxin or endoscopic thoracic sympathectomy.
Rivista: J Eur Acad Dermatol Venereol. 2012 Jul 24. doi: 10.1111/j.1468-3083.2012.04630.x
Autori: Alvarez MA, Ruano J, Gómez FJ, Casas E, Baamonde C, Salvatierra A, Moreno JC.
Affiliazioni: Departments of Dermatology Thoracic Surgery, Reina Sofia University Hospital, Cordoba, Spain.
Abstract:
Background Moderate to severe palmar hyperhidrosis can disturb people's work and social and emotional lives. Botulinum toxin and sympathectomy are currently considered the most effective treatment options but few studies have analysed the concordance between efficacy and patient satisfaction in comparisons of these two types of treatments. Objective To assess the relation between efficacy and the satisfaction of patients with palmar hyperhidrosis treated with either botulinum toxin or endoscopic thoracic sympathectomy. Material and methods This retrospective, observational study included all patients treated with either botulinum toxin or endoscopic thoracic sympathectomy in a single reference hospital in 2005-2010. Information was obtained from computerized medical records and a telephone survey about patients' educational and socio-economic level, awareness of treatment options, pre- and post-treatment severity of palmar hyperhidrosis, satisfaction and associated side effects. Predictors of efficacy and patient satisfaction with each treatment were analysed with ordinal and multinomial logistic regression models. Results Patients who underwent sympathectomy had more severe palmar hyperhidrosis but efficacy and patient satisfaction were greater compared with patients given botulinum toxin. The severity of the compensatory palmar hyperhidrosis was predictive of less satisfaction after sympathectomy. In the group treated with botulinum toxin, low socio-economic status, lack of information about treatment options, fewer sessions and a shorter anhidrotic effect were associated with less satisfaction. Conclusion In studies of expectations regarding the outcome of palmar hyperhidrosis treatment, doctors should consider the factors that determine patient satisfaction in relation to the treatment options.
hottestpix info, Good Innocent Naked Images