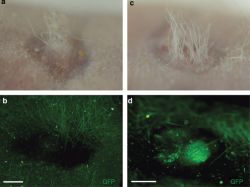 Con l'introduzione delle tecniche di rigenerazione dei capelli tramite l'utilizzo di cellule dell'epidermide e del derma, la rigenerazione del follicolo pilifero è diventata molto più facile e veloce. Il successo attuale è dipeso dalla disponibilità di cellule da topi embrioni o neonati. Abbiamo recentemente osservato che la capacità di indurre la crescita di peli da parte delle cellule dermiche di topo neonato scompare nei primi giorni di vita e c'è una drastica diminuzione dell'espressione genica di istidina decarbossilasi (HDC) a partire dal giorno dopo la nascita (p0) fino al 7° giorno (p7).
Obiettivo
Lo scopo di questo studio è stato quello di indagare il ruolo della HDC nell'induzione del follicolo pilifero.
Metodi
I livelli mRNA di HDC a p0, p7 e p48 nella pelle di topi C57BL/6, sono stati controllati con una reazione a catena della polimerasi retro trascrizionale in tempo reale e con l'immunoistochimica. Per verificare l'effetto di HDC, è stata soppressa l'espressione di HDC nelle cellule dermiche di topo p0, con una trasfezione di piccoli RNA interferenti (siRNA). Le cellule trattate con Mock e con HDC siRNA sono state poi aggiunte a cellule epidermiche adulte nella pelle di topi nudi. Tre settimane più tardi, sono stati confrontati il numero, la lunghezza e lo spessore dei peli così indotti.
Risultati
Rispetto a p0, il livello mRNA di HDC è stato molto più basso se confrontato con quello a p7 e a p48. Inoltre, la colorazione immunoistochimica ha rivelato una marcata diminuzione dell'espressione di HDC nella pelle di topi a p7, rispetto alla pelle a p0. Il test di area dei capelli ha dimostrato che cellule dermiche p0 trattate con HDC e siRNA inducono la perdita delle strutture del follicolo pilifero e il fusto del capello diventa più corto e sottile, rispetto alle cellule trattate con mock.
Conclusione
L'HDC, la cui espressione è notevolmente sotto-regolata durante i primi giorni dopo la nascita nelle cellule dermiche di topo, svolge un ruolo essenziale nella capacità di indurre la crescita dei peli da parte di cellule dermiche nel topo neonato.
Storia della pubblicazione:
Titolo: Histidine decarboxylase expression influences the neofolliculogenesis of newborn mouse dermal cells
Rivista: Journal of Dermatological Science. Volume 67, Issue 2 , Pages 95-100, August 2012
Autori: Jung-Im Na, Kyung-Mi Nam, Hye-Ryung Choi, Shigeki Inui, Sang-Woong Youn, Chang-Hun Huh, Kyoung-Chan Park
Affiliazioni: Department of Dermatology, Seoul National University College of Medicine, Seoul National University Bundang Hospital, Seoul, Republic of Korea.
Abstract:
Background
With the introduction of hair regeneration techniques using epidermal and dermal cells, hair follicle regeneration became much easier and faster. Current success has been dependent on the availability of cells from newborn or embryonic mice. We recently observed that the hair-inducing ability of newborn mouse dermal cells disappeared in the first few days of life and there was a drastic decrease of histidine decarboxylase (HDC) gene expression from postnatal day 0 (p0) to day 7 (p7).
Objective
The aim of this study was to study the role of HDC in hair follicle induction.
Methods
The mRNA levels of HDC in p0, p7 and p48 C57BL/6 mouse skin were checked with a real time reverse transcription polymerase chain reaction and immunohistochemistry. To test the effect of HDC, HDC expression in p0 mouse dermal cells was suppressed with small interfering RNA (siRNA) transfection. Mock treated and HDC siRNA treated cells were then injected with adult epidermal cells into nude mice skin. Three weeks later, the number, length and thickness of induced hairs were compared.
Results
Compared with p0, the mRNA level of HDC was much lower at p7 and p48. Immunohistochemical staining also revealed a marked decrease of HDC expression in p7 mice skin, compared with p0 skin. Hair patch assays showed that the HDC siRNA treated p0 dermal cells induced less hair follicle structures and shorter and thinner hair shafts than mock treated cells.
Conclusion
HDC, whose expression is remarkably downregulated during the first few days after birth in dermal cells of mice, plays essential roles in the hair-inducing ability of newborn mouse dermal cells.