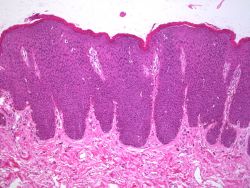 È ancora dibattuto quale sia il trattamento ideale per un'ampia neoplasia vulvare intraepiteliale multifocale di grado 3 (VIN 3) nelle pazienti giovani.
L'obiettivo è stato quello di prevenire lo sviluppo del cancro vulvare invasivo preservando la normale anatomia e funzione vulvare. Gli autori hanno descritto il caso di una donna di 37 anni affetta da VIN 3 (verificata attraverso biopsia) che coinvolgeva interamente i genitali esterni. È stata effettuata una vulvectomia superficiale totale in due sessioni ravvicinate con laser alla CO(2) utilizzato nella modalità escissionale.
Entrambe le procedure sono state eseguite in ambito ambulatoriale mentre la paziente si trovava sotto anestesia locale e senza necessità punti di sutura o lembi di pelle. Le analisi patologiche definitive hanno confermato un tipo di VIN 3 con margini liberi. Non è stata documentata alcuna complicazione intraoperatoria o postoperatoria. Gli esiti funzionali e anatomici sono risultati ottimali, e non si è verificata alcuna recidiva dopo 12 mesi di follow-up.
Il laser alla CO(2) per la vulvectomia superficiale totale si dimostra un trattamento sicuro ed adeguato in giovani pazienti selezionate con VIN 3 che coinvolga interamente i genitali esterni.
Storia della pubblicazione:
Titolo: CO(2) Laser Total Superficial Vulvectomy: An Outpatient Treatment for Wide Multifocal Vulvar Intraepithelial Neoplasia Grade 3.
Rivista: J Minim Invasive Gynecol. 2012 Nov;19(6):758-61. doi: 10.1016/j.jmig.2012.08.005.
Autori: Fallani MG, Fambrini M, Lozza V, Bianchi C, Pieralli A.
Affiliazioni: Department of Science for Woman and Child Health, University of Florence, Florence, Italy.
Abstract:
The ideal treatment of large multifocal vulvar intraepithelial neoplasia grade 3 (VIN 3) in young patients is still debated. The goal is to prevent development of invasive vulvar cancer while preserving normal vulvar anatomy and function. The authors describe the case of a 37-year-old woman affected by a biopsy-proven VIN 3 involving the entire external genitalia. A total superficial vulvectomy was carried out in 2 closer sessions by CO(2) laser used in an excisional way. Both procedures were performed in an outpatient setting with the patient under local anesthesia and without suturing stitches or skin flaps. Definitive pathologic analysis confirmed VIN 3 with free margins. No intraoperative and postoperative complications were documented. Functional and anatomic outcomes were optimal, and no relapse occurred after 12 months of follow-up. Use of CO(2) laser total superficial vulvectomy shows promise of a safe and adequate treatment in selected young patients with VIN 3 involving the entire external genitalia.