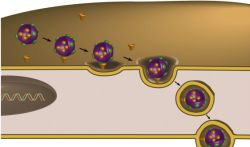 Lo Staphylococcus aureus rimane una causa comune nell'infezione della ferita da ustione. Diversi studi hanno dimostrato che l'intrappolamento di materiale di origine vegetale, come l'epigallocatechina gallato (EGCG) nei liposomi potrebbe aumentare la loro attività anti-S. aureus.
Gli obiettivi di questo studio sono stati quelli di preparare dei nanoliposomi caricati con EGCG con cariche superficiali variabili e valutarne l'efficacia in vitro e in vivo contro S. aureus resistente alla meticillina (MRSA).
Progettazione dello studio/Metodi: I nanoliposomi caricati con EGCG con cariche superficiali positive, negative e neutre sono stati preparati attraverso il metodo di estrusione. Le concentrazioni minime inibenti (MICs) delle forme dei nanoliposomi con EGCG contro MRSA sono state determinate con il metodo di diluizione in brodo. Sono stati analizzati i tassi di uccisione di EGCG nella sua forma libera e in nanoliposomi. In definitiva, è stata studiata l'efficacia terapeutica in vivo dei nanoliposomi nella pelle bruciata di topo, infettata da MRSA.
Risultati: Le MICs dei nanoliposomi di EGCG nelle forme libere, cationiche, neutre e anioniche contro MRSA sono state di 128, 16, 32 e 256 mg/l, rispettivamente. I tassi di uccisione del nanoliposomi cationici caricati con EGCG sono stati superiori a quelli delle altre formulazioni. Il trattamento con i nanoliposomi caricati con EGCG e cariche superficiali positive, neutre e negative hanno portato a tassi di sopravvivenza di quasi il 100, 70 e 30%, rispettivamente.
Conclusione: I dati suggeriscono che i nanoliposomi cationici caricati con EGCG potrebbero essere una buona scelta per il trattamento delle infezioni da MRSA, grazie alla loro elevata efficacia.
Storia della pubblicazione:
Titolo: Therapeutic Efficacy of Epigallocatechin Gallate-Loaded Nanoliposomes against Burn Wound Infection by Methicillin-Resistant Staphylococcus aureus
Rivista: Skin Pharmacol Physiol 2013;26:68-75 (DOI: 10.1159/000345761)
Autori: A. Gharib, Z. Faezizadeh, M. Godarzee
Affiliazioni: Departments of aLaboratory Sciences and bBiology, Borujerd Branch, Islamic Azad University, Borujerd, Iran
Abstract:
Background/Aim: Staphylococcus aureus remains a common cause of burn wound infection. Different studies have shown that the entrapment of plant-derived material such as epigallocatechin gallate (EGCG) in liposomes could increase their anti-S. aureus activity. The objectives of this study were to prepare EGCG-loaded nanoliposomes with variable surface charges and to evaluate their efficacy in vitro and in vivo against methicillin-resistant S. aureus (MRSA). Study Design/Methods: EGCG-loaded nanoliposomes with positive, negative and neutral surface charges were prepared by extrusion method. Minimum inhibitory concentrations (MICs) of EGCG nanoliposomal forms against MRSA were determined by broth dilution method. The killing rates of the free and nanoliposomal forms of EGCG were analyzed. Ultimately, the in vivo therapeutic efficacy of the nanoliposomes in burned mouse skin infected by MRSA was investigated. Results: The MICs of the free, cationic, neutral and anionic nanoliposomal forms of EGCG against MRSA were 128, 16, 32 and 256 mg/l, respectively. The killing rates of the EGCG-loaded cationic nanoliposomes were higher than those of the other formulations. Treatment with the EGCG-loaded nanoliposomes with positive, neutral and negative surface charges resulted in almost 100, 70 and 30% survival rates, respectively. Conclusion: The data suggested that the cationic EGCG-loaded nanoliposomes would be a good choice for the treatment of MRSA infections due to its high effectiveness.