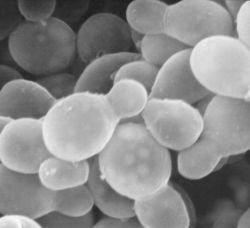 La pitiriasi versicolor (PV) è una comune infezione fungina superficiale della pelle causata da specie Malassezia. Il significato clinico di ciascuna di queste specie non è del tutto chiaro. M. furfur è stato a lungo identificato come l'agente causativo di PV. Diversi studi recenti suggeriscono che M. globosa è più frequentemente associata con PV.
Obiettivi: Lo scopo di questo studio è stato quello di esaminare la prevalenza delle specie Malassezia nella pelle colpita e non colpita di pazienti Israeliani con PV, utilizzando un metodo indipendente dalle coltura e basato sulla reazione a catena della polimerasi (PCR).
Metodi: I campioni sono stati prelevati dalla pelle colpita di 75 pazienti con PV (35 femmine e 40 maschi, di età compresa tra 18-65 anni) che hanno visitato il nostro ambulatorio e dalla pelle inalterata di 26 pazienti, per eseguire la microscopia diretta e l'individuazione delle specie Malassezia con un metodo basato sulla PCR.
Risultati: Le principali specie Malassezia in PV sono state M. globosa, scoperta nel 97.3% (73 su 75) dei campioni di pelle colpita e nel 80.8% (21 di 26) campioni di pelle inalterata. M. restricta è stata associata con M. globosa nel 1.3% (uno su 75) dei pazienti. Non è stato trovato alcun caso di M. furfur in questo studio. Non c'è stata alcuna differenza nella distribuzione delle specie Malassezia tra pelle colpita e quella inalterata.
Conclusione: In base al test di PCR, abbiamo dimostrato che M. globosa è con probabilità la specie più frequentemente associata a PV.
Storia della pubblicazione:
Titolo: Molecular analysis of Malassezia species isolated from Israeli patients with pityriasis versicolor
Rivista: International Journal of Dermatology. doi: 10.1111/j.1365-4632.2012.05595.x
Autori: Anna Lyakhovitsky, Avner Shemer, Boaz Amichai
Affiliazioni: Department of Dermatology, Sheba Medical Center, Tel Hashomer
Sackler Faculty of Medicine, Tel Aviv University, Tel Aviv
Department of Dermatology, Meir Medical Center, Kfar Saba, Israel
Abstract:
Background Pityriasis versicolor (PV) is a common superficial fungal infection of the skin caused by Malassezia species. The clinical significance of each of these species is not fully understood. M. furfur has long been identified as the causative agent of PV. Several recent studies suggest that M. globosa is most frequently associated with PV.
Objectives The aim of this study was to examine the prevalence of Malassezia species in affected and unaffected skin in Israeli patients with PV using a polymerase chain reaction (PCR)-based culture-independent method.
Methods Samples were taken from affected skin of 75 patients with PV (35 females and 40 males, age range 18–65 years) who visited our outpatient clinic and from unaffected skin in 26 patients for direct microscopy and detection of Malassezia species using a PCR-based method.
Results The major Malassezia species in PV was M. globosa, found in 97.3% (73 of 75) of samples from affected skin and 80.8% (21 of 26) samples of unaffected skin. M. restricta was associated with M. globosa in 1.3% (one of 75) of patients. No cases of M. furfur were detected in this study. There was no difference in the distribution of Malassezia species between affected and unaffected skin.
Conclusion Based on the PCR test, we have shown that M. globosa is probably most frequently associated with PV.