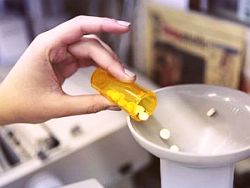 Le lipossine sono potenziali mediatori anti-infiammatori e serviono come "segnale di frenata" endogeno nel processo infiammatorio. Le prove che si accumulano hanno indicato l'efficacia della lipossina A4 (LXA4) e dei suoi analoghi nel trattamento di molti modelli animali di malattie infiammatorie. Questo studio indaga l'efficacia e la sicurezza di 15(R/S)-metil-lipossina A4 nel trattamento topico dell'eczema infantile.
Metodi: In questo studio a due centri, in doppio-cieco, placebo-controllato, randomizzato, in parallelo dei gruppi di confronto, sessanta pazienti sono stati assegnati a ricevere in modo randomizzato sia il 15(R/S)-metil-lipossina A4 in crema, mometasone furoato (Eloson) o placebo per 10 giorni. L'efficacia è stata determinata utilizzando la Scala dei Punteggi di Severità (SSS), l'Indice di Area e Severità dell'Eczema (EASI) e l'Indice di Qualità della Vita della Dermatite dei Bambini (IDQOL). La sicurezza è stata monitorata mediante l'esame obiettivo, le indagini di laboratorio e la documentazione di eventi clinici avversi.
Risultati: Il trattamento dell'eczema con crema 15(R/S)-metil-LXA4 ha notevolmente alleviato la gravità, ha portato a guarigione, e ha migliorato la qualità della vita dei soggetti, come dimostrato dalla significativa riduzione di SSS, EASI e IDQOL rispettivamente, in un modo simile all'efficacia di Eloson. Tutti i parametri di sicurezza sono rimasti entro i limiti normali. Nessun evento avverso è stato trovato nei pazienti dei tre gruppi.
Conclusione: 15(R/S)-metil-LXA4 è stato ben tollerato e ha significativamente ridotto la severità dell'eczema. I risultati di questo piccolo studio esplorativo suggeriscono che 15(R/S)-metil-LXA4 garantisce ulteriori indagini nel trattamento dell'eczema.
Storia della pubblicazione:
Titolo: Efficacy and Safety of 15(R/S)-Methyl-Lipoxin A4 in Topical Treatment of Infantile Eczema
Rivista: British Journal of Dermatology. doi: 10.1111/j.1365-2133.2012.11177.x
Autori: S.-H. Wu, X.-Q. Chen, B. Liu, H.-J. Wu, L. Dong
Affiliazioni: Department of Pediatrics, First Affiliated Hospital of Nanjing Medical University, Nanjing, Jiangsu 210029, People's Republic of China
Department of Dermatology, Hospital of Southeast University, Nanjing, Jiangsu, 210018, People's Republic, of China
Abstract:
Background: Lipoxins were potential anti-inflammatory mediators and serve as endogenous "braking signal" in the inflammatory process. The accumulating evidence indicated the efficacy of lipoxin A4 (LXA4) and its analogs in treatment of many animal models of inflammatory diseases. This study investigates the efficacy and safety of 15(R/S)-methyl-lipoxin A4 in topical treatment of infantile eczema.
Methods: In this two-centers, double-blind, placebo-controlled, randomized, parallel-groups comparative study, sixty patients were randomly assigned to receive either the 15(R/S)-methyl-lipoxin A4 cream, mometasone furoate (Eloson) or placebo for 10 days. The efficacy was determined using Severity Scale Score (SSS), Eczema Area and Severity Index (EASI) and The Infants' Dermatitis Quality of Life Index (IDQOL). The safety was monitored by physical examination, laboratory investigations and documentation of clinical adverse events.
Results: Treatment of eczema with 15(R/S)-methyl-LXA4 cream significantly relieved the severity, made a recovery, and improved the quality of life of the cases, as demonstrated by significantly reduced SSS, EASI and IDQOL respectively, in a similar way to the efficacy of Eloson. All safety parameters remained within normal limits. No clinical adverse event was found in the patients of three groups.
Conclusion: 15(R/S)-methyl-LXA4 was well tolerated, and significantly reduced the severity of eczema. The results of this small exploratory study suggest that 15(R/S)-methyl-LXA4 warrants further investigation in the treatment of eczema.