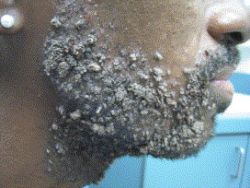 Le verruche sono comuni e spesso impegnative da trattare in alcuni bambini, specialmente in quelli immunocompromessi e in coloro che non riescono o non possono tollerare le preparazioni di acido salicilico e la crioterapia.
Il Cidofovir, un analogo nucleotidico con attività antivirale, ha dimostrato risultati promettenti quando strutturato in una forma topica, per curare le verruche refrattarie.
Vi presentiamo una revisione retrospettiva e istituzionale di 12 bambini con verruche refrattarie trattate con cidofovir topico dall'1% al 3% in forma di crema idratante inodore, applicata giornalmente.
Nelle nostre serie istituzionali, solo tre pazienti (25%) hanno presentato una scomparsa completa della loro verruche. Altri quattro pazienti (33%) hanno dimostrato una scomparsa parziale.
La nostra esperienza con l'uso topico di cidofovir ha avuto meno successo rispetto alle precedenti recensioni istituzionali, forse perché abbiamo utilizzato una concentrazione più bassa e un dosaggio meno frequente.
Sono necessari ulteriori studi per meglio caratterizzare l'efficacia, la sicurezza e la dose di cidofovir topico da utilizzare nel trattamento delle verruche refrattarie.
Storia della pubblicazione:
Titolo: Topical Cidofovir for Refractory Verrucae in Children
Rivista: Pediatric Dermatology. doi: 10.1111/j.1525-1470.2012.01798.x
Autori: Monique Gupta, Susan J. Bayliss, David R. Berk
Affiliazioni: Division of Dermatology, Departments of Internal Medicine and Pediatrics, Washington University School of Medicine and St. Louis Children's Hospital, St. Louis, Missouri
Abstract:
Warts are common and are a challenge to treat in some children, especially immunocompromised children and those who fail or cannot tolerate salicylic acid preparations and cryotherapy. Cidofovir, a nucleotide analogue with antiviral activity, has demonstrated promising results when compounded into a topical form to treat refractory warts. We present a retrospective institutional review of 12 children with refractory verrucae treated with 1% to 3% topical cidofovir compounded in an unscented moisturizing cream, applied every other day to daily. In our institutional series, only three patients (25%) demonstrated complete clearance of their verrucae. An additional four patients (33%) demonstrated partial clearance. Our experience using topical cidofovir has been less successful than previous institutional reviews, possibly because we used a lower concentration and less-frequent dosing. More studies are needed to better characterize the efficacy, safety, and dosing of topical cidofovir for the treatment of refractory warts.